Our state-of-the-art True HEPA Air Purifier, a must-have device for anyone seeking cleaner and healthier indoor air. With its exceptional filtration capabilities, sleek design, and convenient features, it is the perfect solution for improving the air quality in your home or hotel room. Whether you're a pet owner, a parent, an elderly individual, or simply someone who values fresh air, our air purifier is an ideal gift choice for yourself or your loved ones.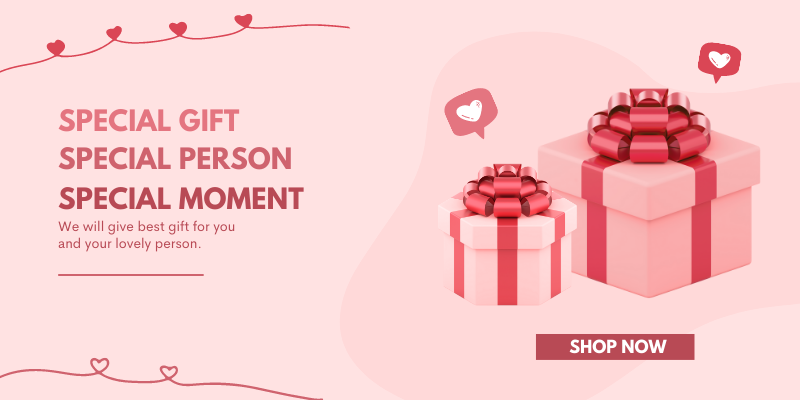 Our True HEPA Air Purifier is designed to filter out an impressive 99.97 percent of dust, pollen, mold spores, and pet dander. It effectively removes particles as small as 0.3 microns and larger air pollutants like PM 2.5, ensuring that you breathe in clean and purified air. By reducing airborne allergens and irritants, it helps to alleviate respiratory issues and promote overall well-being.

One standout feature of our air purifier is its quiet operation, emitting less noise than a whisper at a low 18 dB. This ensures a peaceful and undisturbed environment while you sleep or work. Additionally, the screen automatically turns off after one minute, enhancing the relaxing experience. With three fan speeds and an auto-mode, you can easily customize the airflow according to your specific needs. For a peaceful night's sleep, we recommend using the first or auto speed setting.

To further enhance convenience, our air purifier is equipped with a PM2.5 sensor and a 6-timer function. The sensor detects the indoor air condition, which is clearly displayed on the LED touch panel. The timer function allows you to set the device to run for 2, 4, 6, 8, 10, or 12 hours, providing flexibility and ease of use. With its modern white finish, our air purifier seamlessly blends into any home, bedroom, or room decor.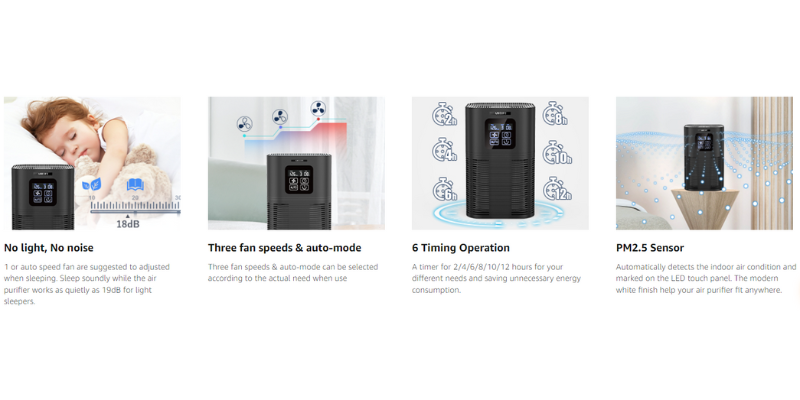 In addition to its powerful air purification capabilities, our air purifier features a unique aromatherapy design. If you're dealing with musty odors, simply add a few drops of your favorite fragrant essential oils (not included) to the aroma pad. This will infuse your space with a pleasant and refreshing scent. Please note that the strength of the aroma depends on the concentration of the essential oil you use.

When it comes to safety and reliability, our True HEPA Air Purifier is a trusted choice. Unlike negative ion purifiers, it produces no ozone, making it 100% safe for your use. It is certified by CE and FCC, ensuring compliance with rigorous safety standards. Additionally, it meets the requirements of the California Air Resources Board (CARB). For optimal performance, we recommend replacing the filter every 3-6 months.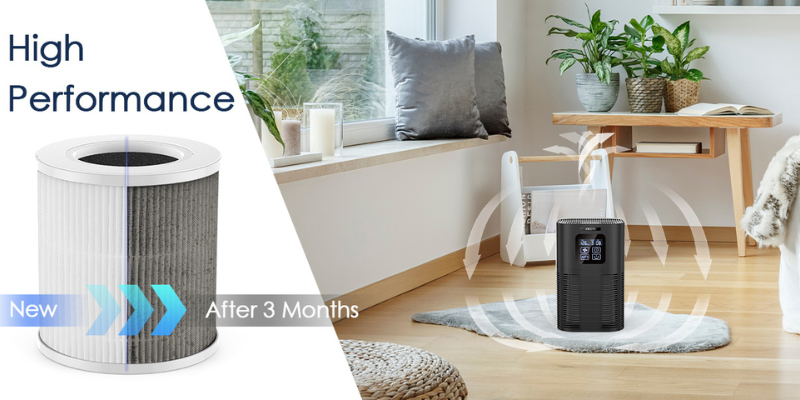 Should you encounter any issues or have any concerns, our dedicated support team is ready to assist you. Simply reach out to us, and we will make every effort to resolve any problems promptly and efficiently.

Invest in the well-being of yourself and your loved ones with our True HEPA Air Purifier. Experience the joy of breathing in clean, fresh air while enjoying the peace and comfort of your surroundings. Don't miss out on this opportunity to improve your indoor air quality. Get your very own AP01 air purifier today!