Air Purifiers for Bedroom, AMEIFU Hepa Air Purifier with Aromatherapy, white
Regular price
$89.99 USD
Sale price
$65.99 USD
Unit price
per
Sale
Sold out
Efficient Particle Filtration: Equip with H13 True HEPA filter and high-efficiency system, AMEIFU air purifier filter 99.97% of particulates such as bad odors, air pollution, pet dander, leaves the air in your home fresh and healthy. It can effectively improve indoor air quality for a room as large as 376.74 sq ft / 35 m². A great home companion for anyone who is allergic, pet danger suffering, or just wants to breathe cleaner air.
Quiet Operation & 3 Speed Fan: Quietly cleans the air with less noise than a whisper on low 18 dB, and the screen turns off automatically after one minute, relaxing to use as you sleep or work. Three fan speeds & auto-mode can be selected according to the actual need when used. (* The first or auto speed is recommended to use when sleeping.)
PM5 Sensor & 6 Timer Function: The Puricare air purifier automatically detects the indoor air condition and is marked on the LED touch panel.Features 6 time function(2/4/6/8/10/12 hours) for your convenient use. The modern white finish helps your air purifier fit anywhere in your home/bedroom/room.
Unique Aromatherapy Design: Struggling with musty smells? Add a few drops of your favorite fragrant essential oils (Not Included) to the aroma pad to keep your space smelling great. Great for Indoor room bedroom, this is a lovely gift.
TRUSTED & CERTIFIED: Unlike the negative ion purifiers, this HEPA air purifier is 100% no ozone with CE, and FCC certification to ensure your safe use, which also meets the California Air Resources Board (CARB). We recommend replacing the filter every 3-6 months to ensure optimum performance. For any problem, just message us and we will make every effort to solve it.
Share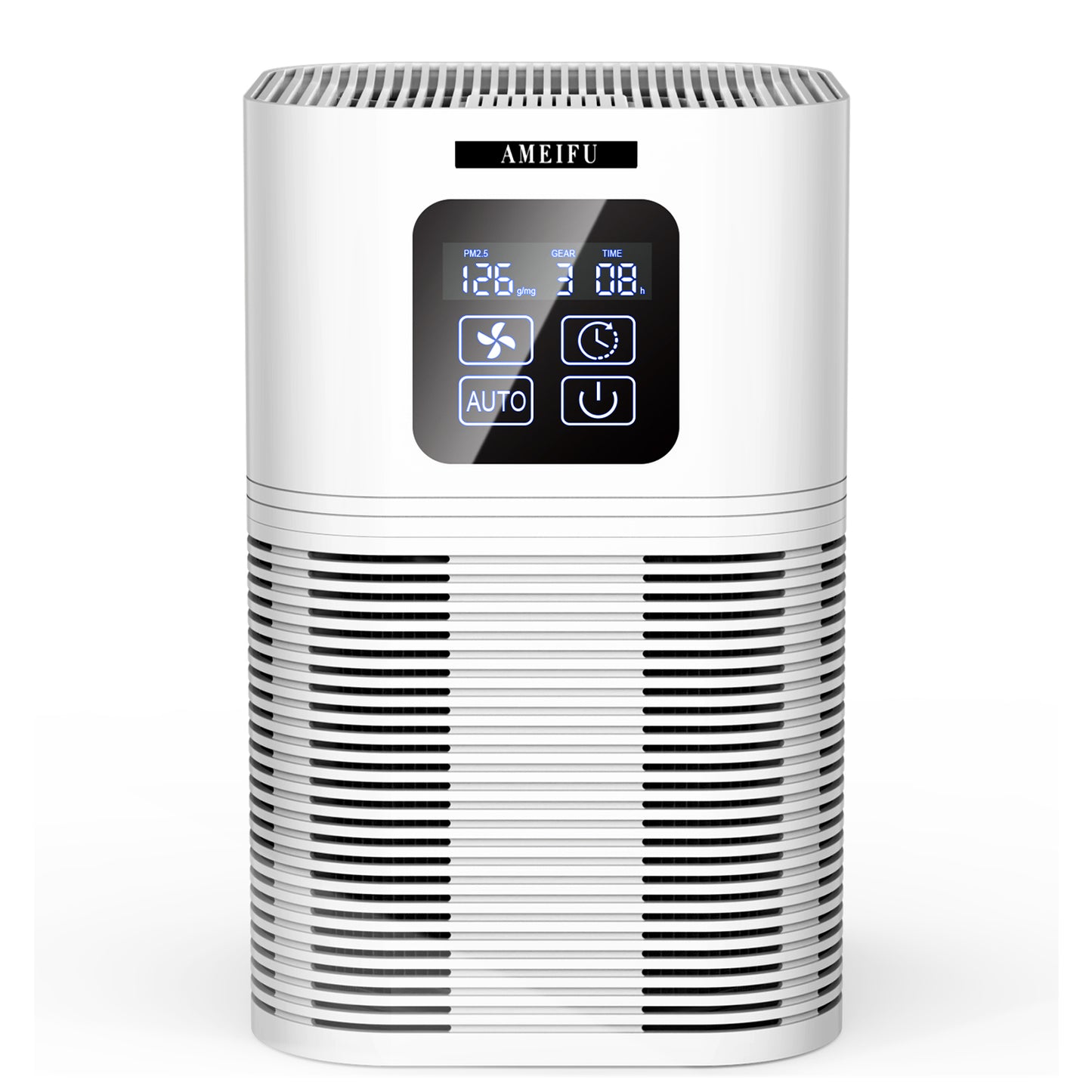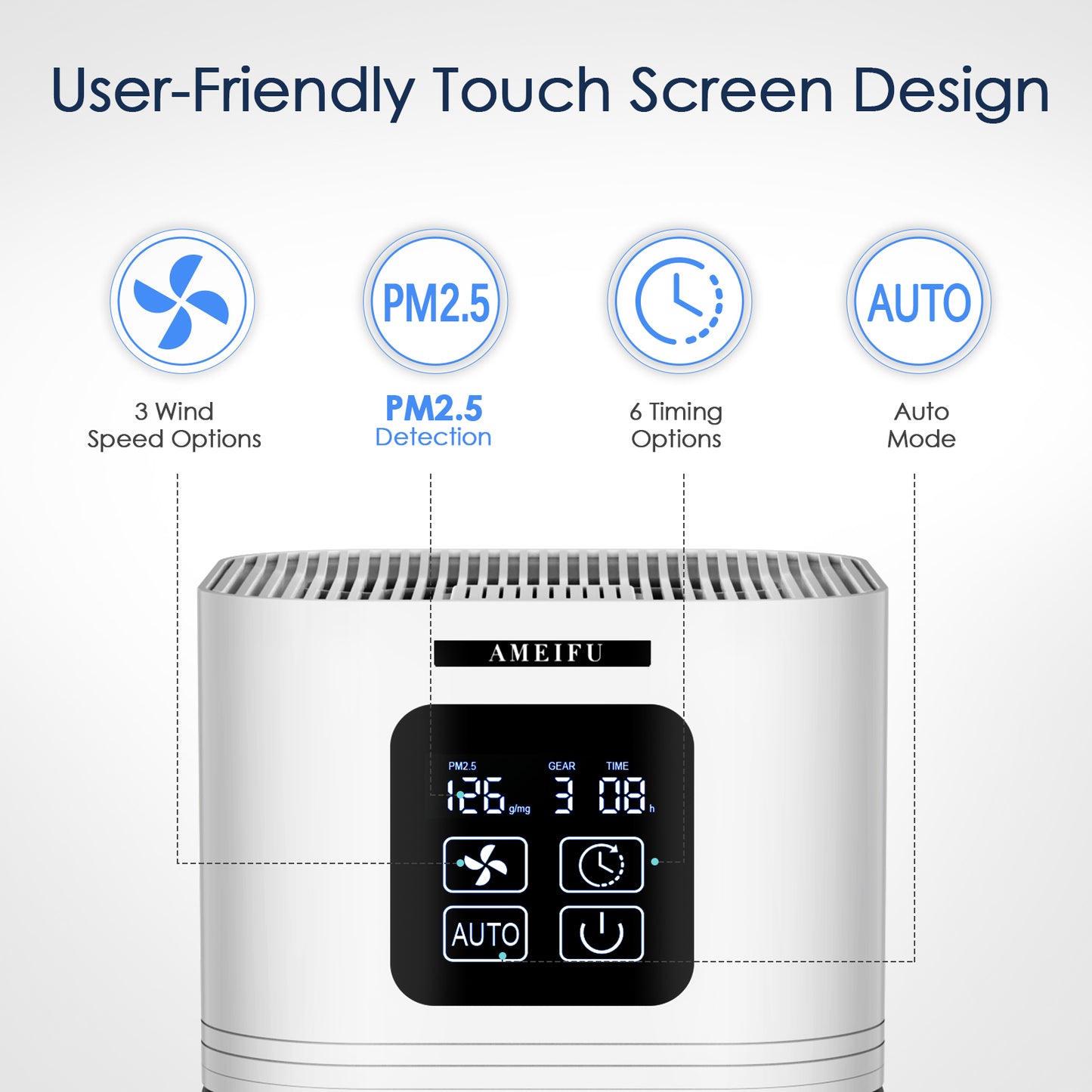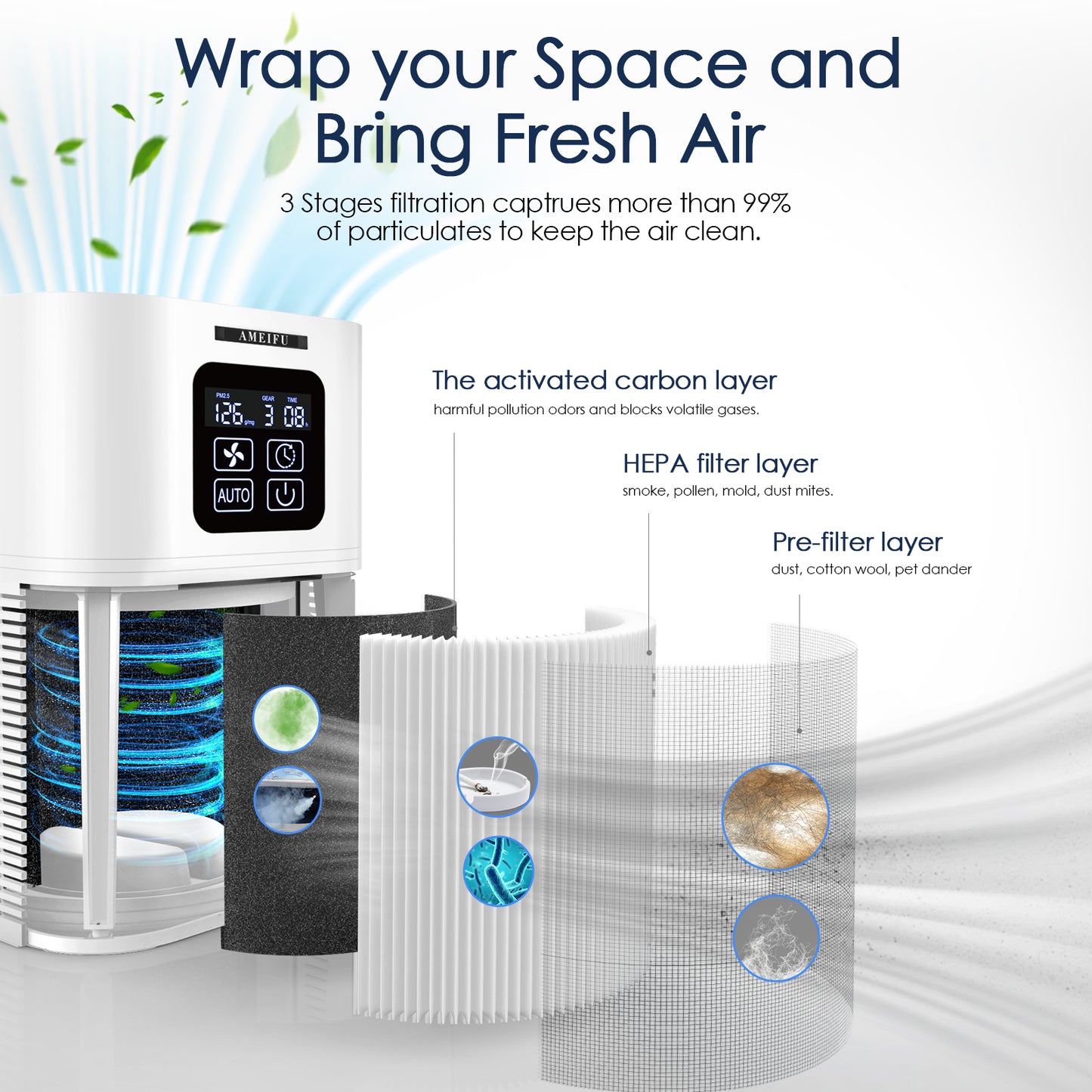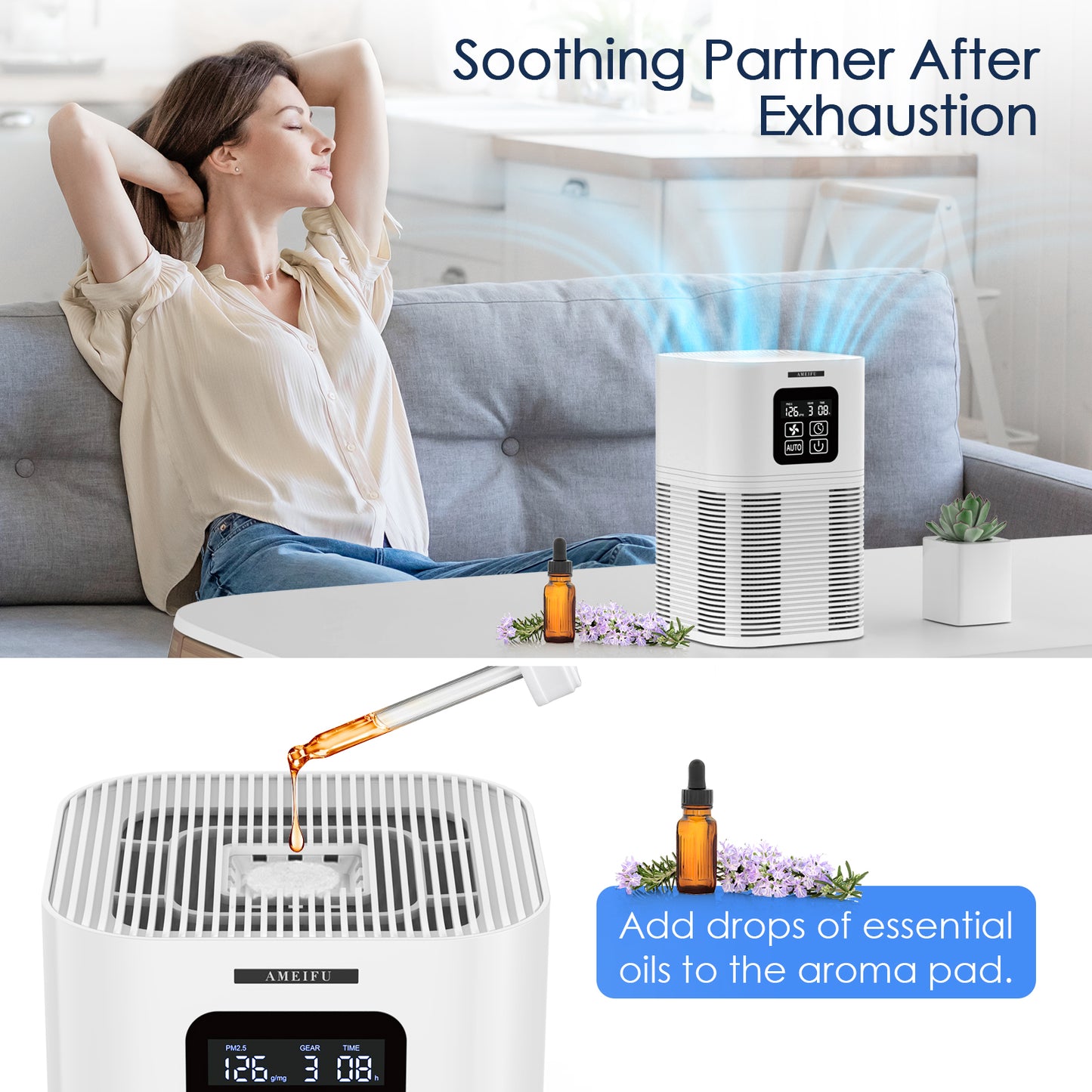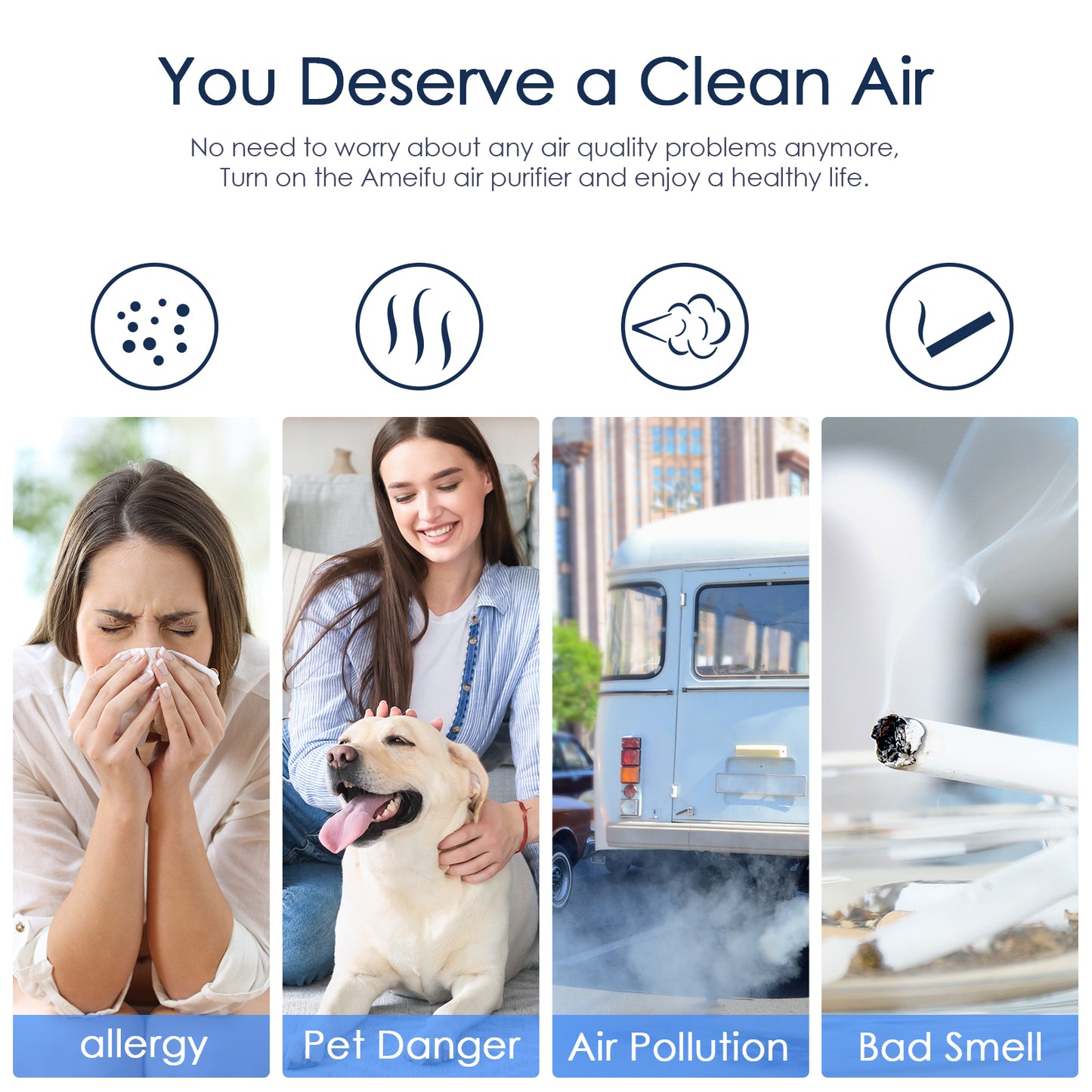 Small But Mighty Air Purifier
Received this air purifier several days before it was promised. This air purifier is small - 10 inches (25.4 cm) tall and the filter is 4 inches (10 cm) -however it is powerful and quiet. It's perfect to set on the countertop in the kitchen to absorb smells and smoke from cooking. It would be good for a small office desk or a small bedroom. This would even fit in a suitcase if you wanted to travel and use in a hotel room. The filtered air coming out smells fresh and clean.
The unit has a digital display and three settings for the fan: lower setting is whisper quiet and the higher setting is great for white noise reduction. There is a timer so you can have it shut down on its own after a set number of hours. The small form factor and portability make it easy to move it to areas of your home that need to eliminate smells, smoke, dust or pollen. Great little air purifier!
Does A Very Good Job
I recently went to visit my mom and noticed they used AMEIFU air purifier every room. They live in central CALIFORNIA AND WITH THE RECENT WILDFIRES, THE AIR quality is very low, so she has them on all the time and says they really help. I am so happy that I bought them to my mom and one for myself. it really works when I walk into my apartment. the air is just it's fresh. I don't smell leftover food. they have been cooking not cigarette smoke or pet smell. I love it.
I like it!
How dare I believe that such a good air purifier can be bought with such cheap money! It's like a treasure. Love it!
SMALL BUT STRONG SUCTION
Ww this thing works great The compact, attractive device easily fits into a coner of my bedroom and is effective. i smoke .And it starts up straight away sucking it out of the air. It's a good choice if you want to buy an aair purifier with a limted cost. Automatically switches to what speed is needed to clean the ai. A thumbsup from me!!
Amazing Product!!
AMEIFU Purifier exceeds my expectations! I've spent time searching and comparing air purifiers, reading other buyer's review and asking some friends who have air purifiers at home. I want a purifier that will last long,good quality but wont hurt my budget. It is my first time buying a purifier and will surely buy 1 more. I can surely tell and feel the difference of our room air quality before and now. It is nice and quiet too and I have slept much better since purchasing it. Overall, I am so happy of my purchased and oh Miko customer service is great!