Upgraded 6.5L Humidifiers for Large Room Cool Mist Humidifiers for Home Baby
Regular price
$69.99 USD
Sale price
$59.99 USD
Unit price
per
Sale
Sold out
【Upgraded Large Humidifiers】 The large 6.5L tank can run for up to 54 hours, covering spaces up to 538ft².Compared with the mini humidifiers, Larger humidifiers can run longer, and you can enjoy a whole night's sleep, freeing you from refilling water frequently.

【Exclusive Patented Design-No Leaking】Tired of other "upside-down" water tanks, this top-fill design humidifier saves you lots of trouble, you could add water from the top, you could also add water under the faucet, no more trouble or mess.

【Adjustable Mist Levels】The cool mist humidifier is featured 3 mist levels, making humidify much more precise and effortless to adjust mist output as you need by choosing a high, medium, or intermittent mist level.

【Quiet Operation】The humidifiers for the bedroom produce a near-silent frequency of 35dB ensuring whisper quiet operation, the humidifiers for the home won't bother you, and you can sleep without disturbance and enjoy soothing humidity.

【Auto Shut Off】And the bedroom humidifier will automatically turn off the power when the water level is lower than the safe water level, preventing damage to the unit and ensuring your safety. Humidifier is suitable for the whole bedroom, living room, plants, pets, office.
Making Breathing Easier and More Enjoyable.
Perfect Humidifier for Home, Office, Plants
One-step Top Fill
Cool Mist Humidifier for A Better Life
Share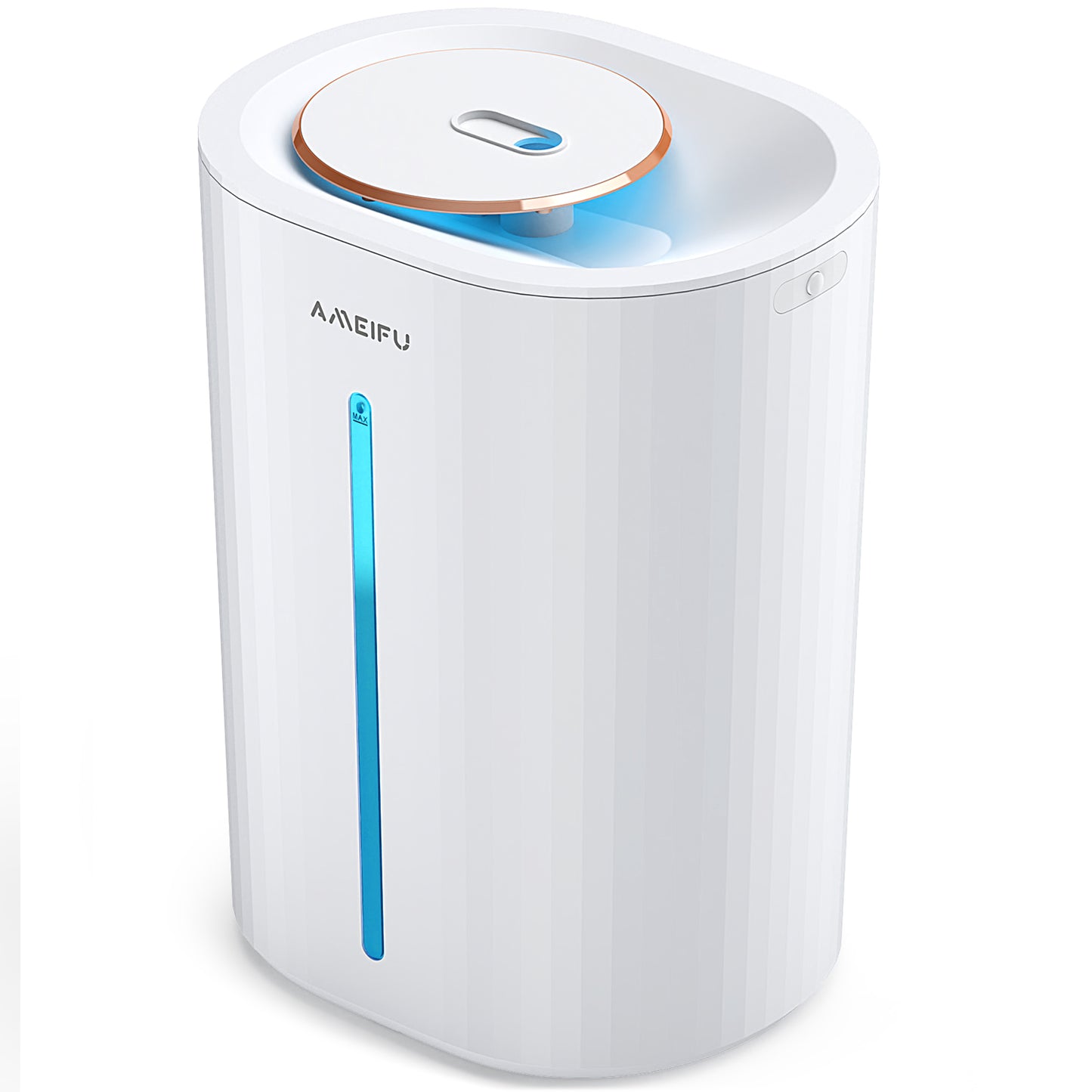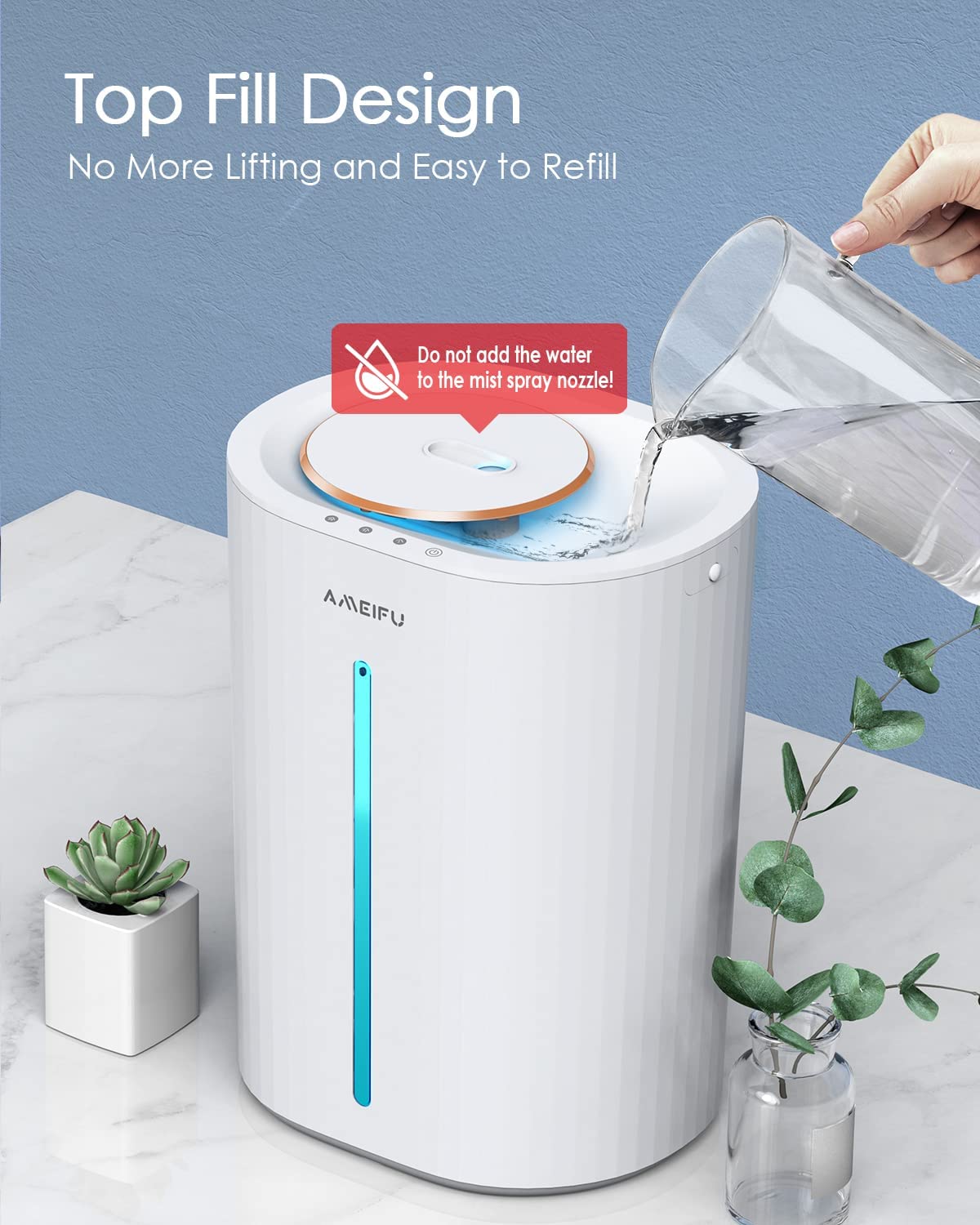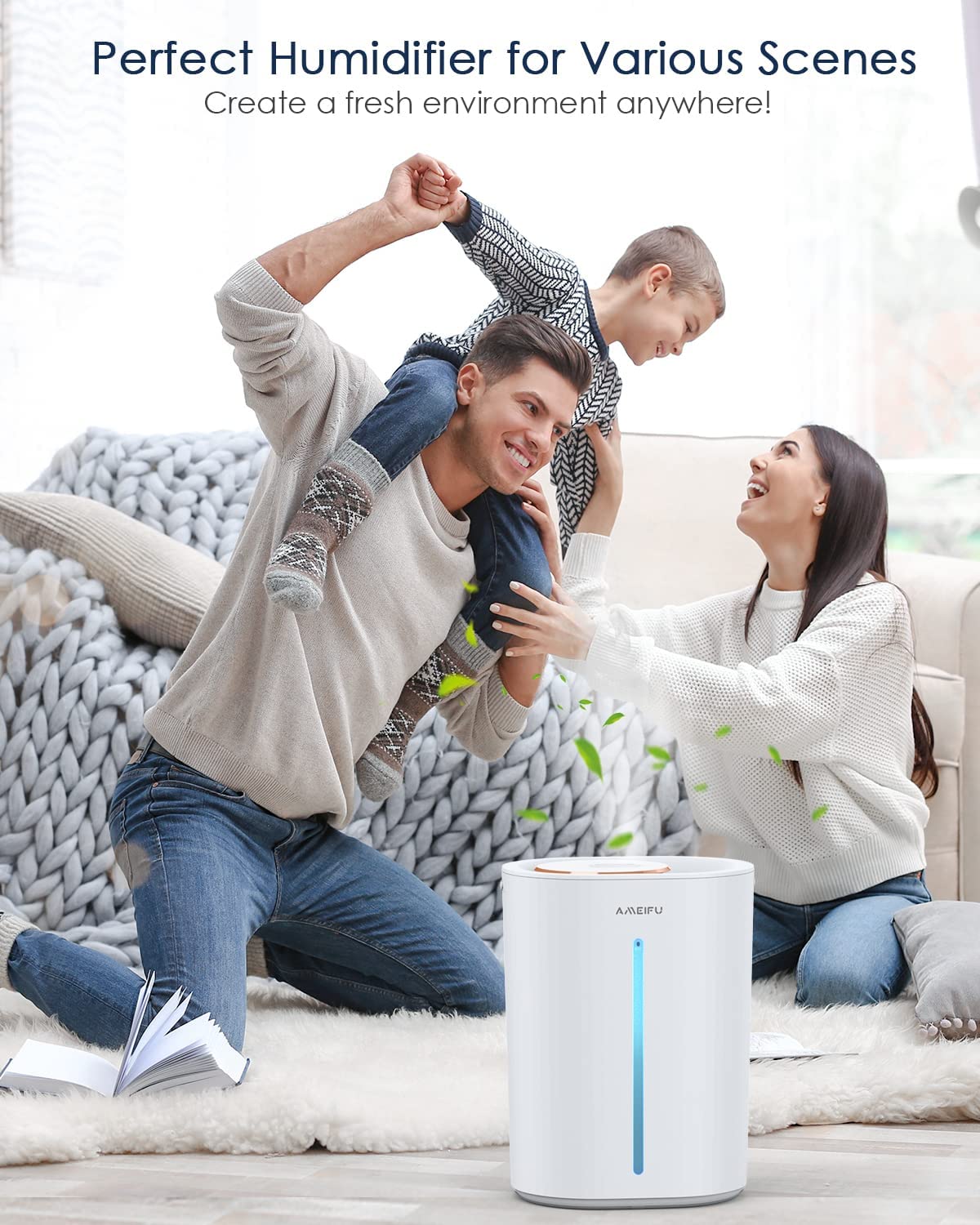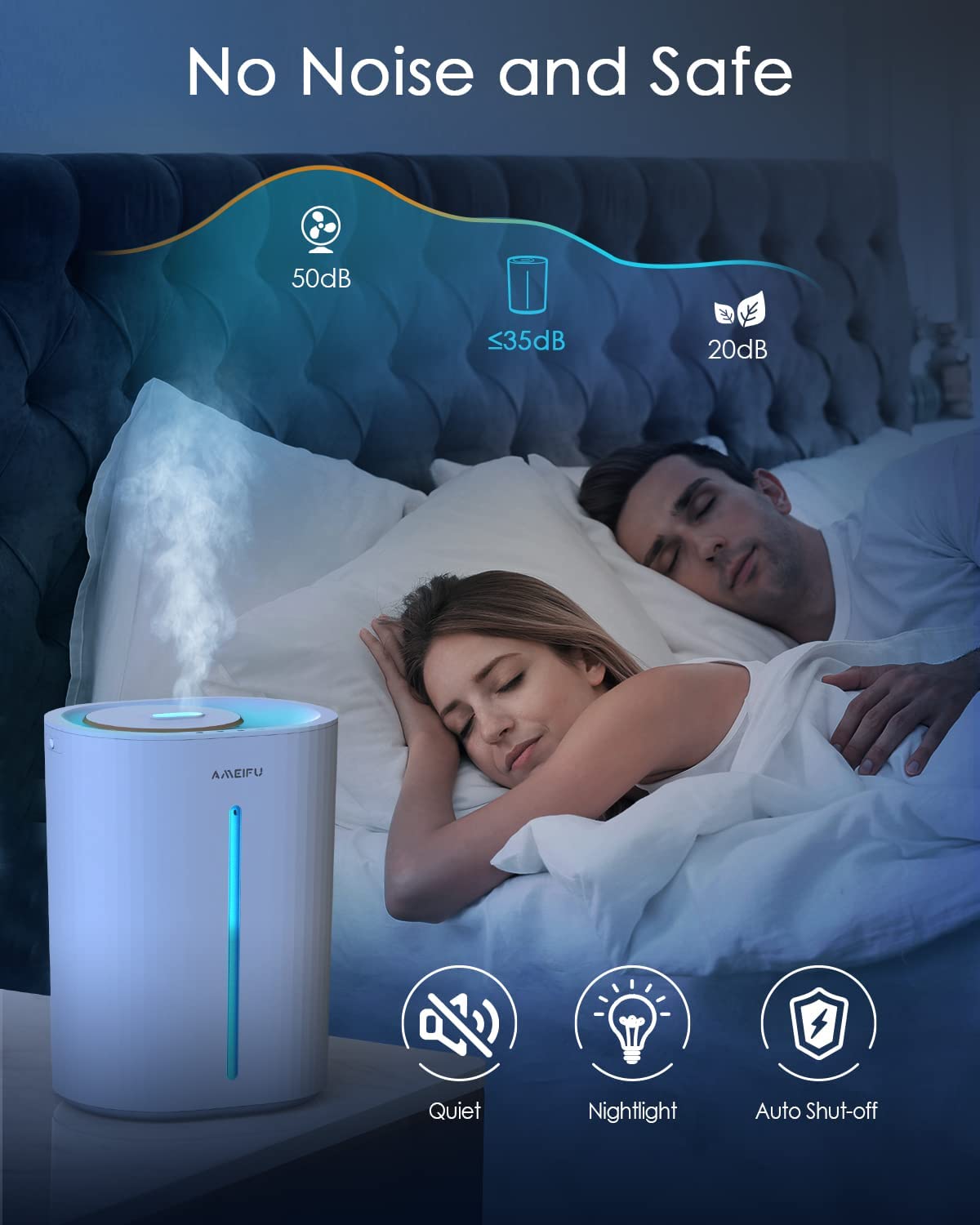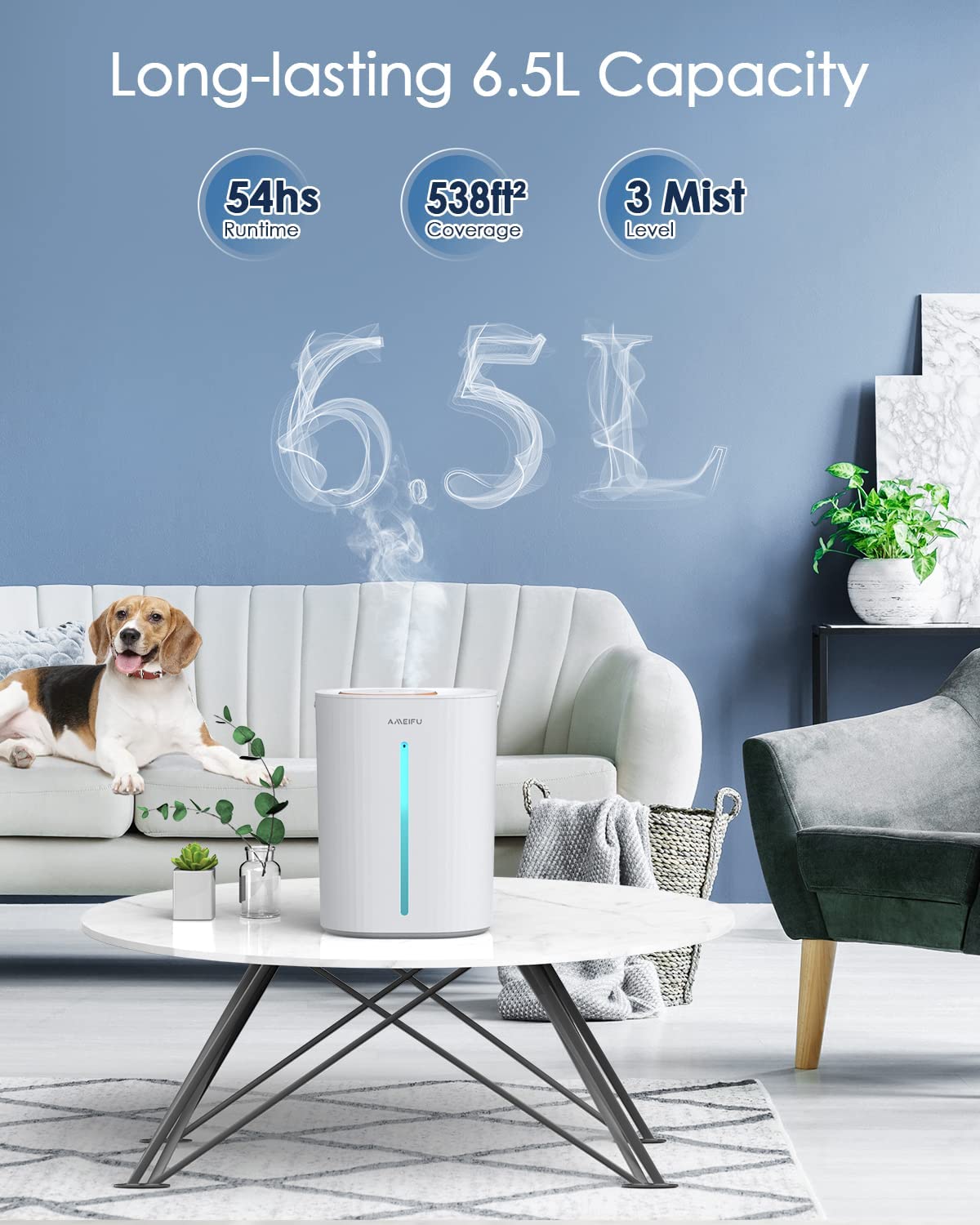 Good product
Humidifier worked well and cleared up the dry air in my large bedroom. It stopped working out of nowhere a few months later, so I reached out to the company. After a short, quick conversation with some trouble shooting, I was told the product was out of stock but they were able to offer me a refund! Good costumer service, sad it's out of stock. Thank you, Sally!
Very unreliable.
Purchased a large one and a small one and within about 26 days the small one quit working. Company replaced it and that one lasted 24 days. The large one has work sporadically and now after about almost a year it no longer works. Will never purchased one of these again.
Very good humidifier
I have been using my Ameifu large room humidifier for half a year and am really happy with this product. Easy to use and easy to clean! The canister inside was initially challenging to take off for cleaning but this eventually got easier. I have purchased several humidifiers but unlike all the others, the interior and the remaining water inside this Ameifu humidifier somehow still looks clean when it's time for cleaning. I am also happy with my customer service experience with Ameifu! Very quick, courteous, efficient, and reliable! Thank you, Nath!
3 settings
I love this Humidifier!! It comes with 3 settings, we use the 20sec on and 10sec off. We leave it in the living room and it covers the entire space, which is about 600sq ft. It gets really dry in our house when the heater is running, so this is perfect. We already have a water distiller maker so we are not concerned about having to constantly refill the reservoir up with costly distilled water. I recommend you go get a distill maker if you planning on getting one of these and using it constantly. This product is highly recommended!
Humidifier
Easy to fill. It is quiet. Working quite well thus far. Large enough for me.